Home-Visit Program Information for Host Family
Overview
Purpose
"U.E.C. Home-Visit Program" aims to get mutual understandings and friendship between foreign students and local residents through cultural exchange. We find your host family who lives in Chofu or its environs. You can visit their home and spend time with them. You will be exposed to Japanese traditional culture. This is a good chance if you are interested in Japanese culture and want to come in touch it. Furthermore, the program is worth joining because you will get a good opportunity to try to practice your Japanese. We encourage your participation
Program Details
You can spend a half day with your host family on weekends. You meet your family at U.E.C. and we introduce you to them. We give them some information about you in advance. First of all, they take you home. Some of them take you somewhere, such as tourist facilities nearby, on the way home. You and your family can make a plan of the day freely. So, you can discuss with your family about what you do or when you finish.
Practical Examples
meet Japanese cuisine ( e.g. Sushi, Tempura, cooking Japanese food together )
visit Shrines, temples and tourists facilities nearby ( Jindai-ji, Jindai Botanical Garden )
play sports or enjoying picnics in a park nearby
dress in Japanese traditional cloths Kimono, Yukata and Hakama
discuss the difference between the home countries
join in a local activity ( e.g. festivals, parties or international events )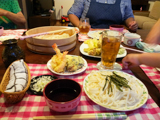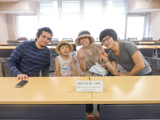 Check out the links below to "Home Visit Reports"
Flow -half day visit-
All participants including host families get together at U.E.C. and have a short meeting at 1 p.m. Afterwards you and your family start up the program together and make a plan of the day freely. So, you can discuss with your family about what you are going to do and what time you end the program. Generally, the students go back home between 8 and 10p.m.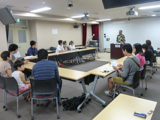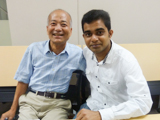 Period of Application
| | |
| --- | --- |
| Spring Semester | mid-June |
| Autumn Semester | late-October to early-November |
The announcement is on the top page of this website (CIPE), and also is on CIPE facebook page and the noticeboard at the International Student Office in May and October. Please contact the International Student Office for the further information.
Created: January 28, 2014 / Last modified:April 14, 2014