Sports Facilities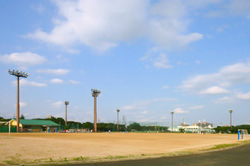 UEC's indoor gym sports facilities consist of two gymnasiums. In addition, there are outdoor sports fields at the Tamagawa Athletic Field, a 10-minute walk from Keio-Tamagawa Station on the Keio railway line.
Although these facilities are usually used for regular physical education classes and for practice sessions held by various university clubs, researchers are welcome to use the facilities after obtaining permission (coordinating desk: Extracurricular Activities/Student Welfare Section, Student Services Office).
Training Room in Gymnasium II
Open hours

11:00 - 20:00 (Weekdays only)

Contact

TEL: 042-443-5093 (the training room office / Japanese only)

Location
Training Guidance:
You have to take a short guidance (approx.30mins), such as how to use the training room and machines, for the first time only. To take the guidance, you had better contact the training room office to make an appointment in advance. When you take the guidance, you need to bring your indoor shoes or slipper. Please note that the short guidance is held in Japanese only.
(Available Time) 11:00 - 13:00/16:00 - 17:50

Whenever you use the training room, you have to fill in the user list.


Created: March 30, 2010 / Last modified:October 13, 2017