CIS University Presidents Visited UEC
13 Presidents and executives from CIS countries visited UEC on April 14, 2010 in order to better understand the university internationalization and the university-industrial alliances etc.
Other than the welcome speech from Dr. Fukuda, Director, Center for International Programs and Exchanges, Prof. Hamano, Professor, Center for International Programs and Exchanges gave a presentation about UEC brief introduction and the internationalization. Also, Dr. Miki, Special Advisor to the President gave a presentation about the university-industrial alliances.
And then, the delegate observed the classes for computer practical training and electronic engineering experiments, and visited University Library and UEC Communication Library.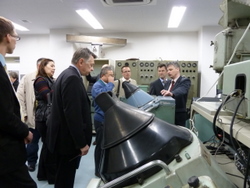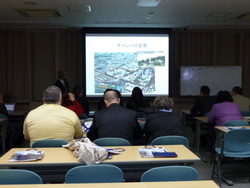 Created: April 14, 2010 / Last modified:November 19, 2012