Delegation from Beijing University of Posts and Telecommunications Visited UEC
A delegation from Beijing University of Posts and Telecommunications (BUPT), which is one of our international partner universities, visited UEC on April 2, 2010. The delegation includes Dr. WANG Ya Jie, Chairman of University Board, and 6 faculty and staff members. They paid a courtesy call on Dr. Makoto KAJITANI, President, and Dr. Takashi FUKUDA, Executive Board Member and other faculty members and had lunch with them. They also visited Dr. Eiji OKI's Laboratory and UEC Communication Museum, and had a meeting concerning student exchange between our two universities.

Since the agreement was signed in 1999, the two universities have been enjoying very active international collaboration such as acceptance of more than 10 BUPT students at UEC under short-term exchange study program (JUSST), ICT International Project Courses and ICT Triangle Forum. Due to this visit, further development of friendship between our two universities is being expected.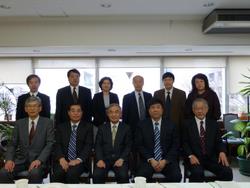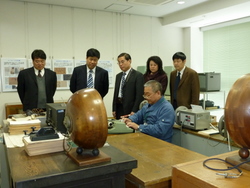 Created: April 5, 2010 / Last modified:November 19, 2012