KMITL President Visited UEC
A delegation from King Mongkut's Institute of Technology Ladkrabang(KMITL,Thailand) including President Tawil Paungma and Vice President Pisit Boonstrimuang visited UEC on Nov 13, 2012, to attend the signing ceremony for the extension of the partner agreement between UEC and KMITL.
Both institutions have been lively conducting various activities in faculty and student exchanges. It is expected that the collaboration will continue to further develop under the renewed agreement.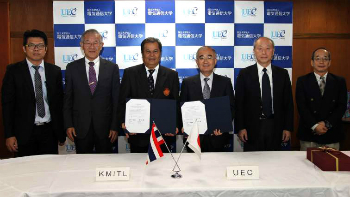 Created: December 5, 2012 / Last modified:February 6, 2013