Delegation of Moscow Institute of Physics and Technology visited UEC
Dr. Sergei Savinov, General Physics Chair and Electrophysics Chair, and Dr. Inga Tolstikhina, Associate Professor, both from Moscow Institute of Physics and Technology (MIPT) paid courtesy call on Dr. Kajitani, UEC President and Dr. Fukuda, Director, Center for International Programs and Exchange on March 21, 2013. President Kajitani was awarded "Adjunct Professor" of MIPT.
UEC and MIPT have concluded a partnership agreement in 2012 aiming at continuous collaboration in research and education. During this one-week visit to UEC, they observed the educational system and the research projects of UEC, and then had a series of meetings with UEC faculty members on a topic of possible collaboration in education and research.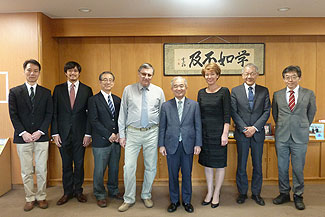 Created: April 8, 2013 / Last modified:September 12, 2013