UEC Academic Skills
UEC Academic Skills I (Computer Literacy)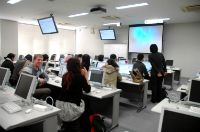 UEC Academic Skills I is designed to give students some grapes of all sorts of computer experience. This course also aims to give students an opportunity to get familiar with very basic computer skills for Academic Work and Study. Upon completion of the course, the students will have acquired the introductory knowledge and skills of UNIX system, Computer Networking, TeX and HTML.
UEC Academic Skills II (Information Literacy and Research)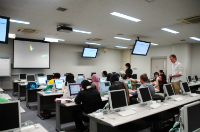 This course is designed to foster students' ability to identify, evaluate and use diverse information sources effectively in science and engineering studies. Students will be introduced to the use of information technology tools and their application to research work. At the end of the semester, students will have developed the skills needed to create a good scientific poster and give a presentation on their major study or research work.
UEC Academic Skills III (Publishing Literacy and Research)
*for JUSST Exchange Students in their SECOND semester.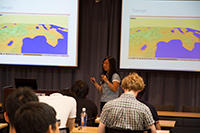 This course is focused on introducing students to the process of doing research, the methods, and the reporting and publishing of scientific research outcomes. The course is based on an individual research work, including literature studies according to the student's study field. At the end of the semester, there will be an "International mini-Conference" that has participants of all JUSST Exchange Students and other regular UEC Students. Students are required to compose their research findings in the form of an academic research paper and present it in an oral presentation at the mini-conference.
Created: April 14, 2009 / Last modified: March 7, 2017