Patrícia Yumi Ozono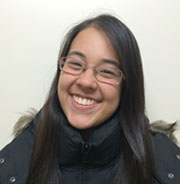 Patrícia Yumi Ozono
Hello! My name is Patrícia Yumi Ozono, and people usually call me Yumi. I came from São Paulo, a city located in the southeast region in Brazil, but I study in another and closer one: Santo André. There, I attend Federal University of ABC in which my major is in electronic engineering, with emphasis in telecommunication, and I am in the 5th year. After being accepted in the Brazilian exchange program: Science without Borders, I have chosen UEC (University of Electro-Communications) because is a university focused in the same field as mine and very well recommended. That's why I was very happy once UEC also accepted me.
Even before coming to Japan, I had all the necessary assistance from the exchange office staff. They are kind and attentive. Also, the students and professors in UEC are friendly and ready to help. Besides, there is a good convenience store inside the campus that sells many different things, from sweet bread to a computer, two university restaurants that have a varied and delicious menu, a big library, computer rooms, equipped laboratories, the campus is well located (near a subway station, supermarkets, health clinics) and so on. So, all this makes the environment very pleasant to live and study, allowing the student to be prepared to improve the knowledge.
A really good characteristic of UEC is to have English support, due to the fact that I wasn't able to talk in Japanese, and they offer Japanese language classes, which one has been helping (actually, saving) a lot in my daily life. The engineering classes are in English, so it's easy to understand, and professors teach very well. I really recommend UEC for any student that desires to improve the professional knowledge, because here you have this opportunity. Furthermore, also the cultural part is taken into consideration. We have had Home visiting (pass a day with a Japanese family), tea ceremony (and we also wore traditional Kimono), parties given by the international student's club (ICES), UEC festival and so on.
In resume, it is a great opportunity to the professional improvement and there is also the chance to know Japan culture, meet people from all around the world and make friends. I am enjoying very much my life here in UEC and in Japan!!
Native Language
Olá! Meu nome é Patrícia Yumi Ozono, e as pessoas usualmente me chamam de Yumi. Eu sou de São Paulo, uma cidade localizada na região sudoeste do Brasil, mas estudo em outra cidade que é vizinha: Santo André. Lá, sou aluna da Universidade Federal do ABC, na qual curso engenharia eletrônica (engenharia da informação) com ênfase em telecomunicações, e estou no quinto ano. Depois de ser aceita no programa de intercâmbio brasileiro: Ciência sem Fronteiras, escolhi a UEC (Universidade de Electro-Comunicações) porque é uma universidade focada no mesmo campo de estudo que o meu e por ser bem recomendada. Por conta disso, fiquei mito feliz quando a UEC também me aceitou.
Mesmo antes de chegar no Japão, tive toda a assistência necessária vinda do pessoal responsável pelos alunos intercambistas. Eles são gentis e atenciosos. E também, os alunos e professores da UEC são simpáticos e prontos para ajudar. Além disso, há uma boa loja de conveniência dentro do campus que vende muitas coisas diferentes, desde "pão doce" até um computador, dois restaurantes universitários que têm um menu variado e delicioso, uma grande biblioteca, salas de informática, laboratórios equipados, o campus é bem localizado (perto de uma estação de metrô, supermercados, clínicas médicas) e assim por diante. Tudo isso torna o ambiente muito agradável para se viver e estudar, permitindo, assim, que o aluno esteja preparado para aprimorar o conhecimento.
Uma boa característica da UEC é ter suporte em inglês, devido ao fato de que eu não ser inteiramente capaz de falar em japonês, e eles oferecem aulas de língua japonesa, a qual tem ajudado (na verdade, salvado) muito as minhas necessidades diárias. As aulas de engenharia são em Inglês, por isso são fáceis de entender, e os professores ensinam muito bem. Eu realmente recomendo UEC para qualquer estudante que deseja melhorar o seu conhecimento profissional, porque aqui você tem esta oportunidade. Além disso, a parte cultural também é levada em consideração. Tivemos Home Visiting (que significa passar um dia com uma família japonesa), cerimónia do chá (onde nós também tivemos a oportunidade de vestir um quimono tradicional), festas dadas pelo clube para estudantes internacionais (ICES), festival anual da UEC e assim por diante.
Em resumo, é uma grande oportunidade para o aperfeiçoamento profissional somado com a chance de conhecer a cultura japonesa e pessoas de todo o mundo e fazer amigos. Eu estou curtindo muito a minha vida aqui na UEC e no Japão!!
Created: January 28, 2016 / Last modified: January 29, 2016