Climate
Japan has four distinct seasons (spring, summer, autumn, and winter). Generally, spring is from March through May, summer is from June through August, autumn is from September through November, and winter is from December through February. The climate is comparatively mild throughout the year, but there are areas that get between two and three meters of snow in the winter, such as the mountainous areas north of Tokyo and areas along the Sea of Japan coast.
Tokyo Climate
Spring
Cherry blossoms bloom at the end of March, and you can enjoy cherry blossom viewing at this time. In May, when all is freshly green, it sometimes becomes so warm that you can spend the day in short sleeves.
Summer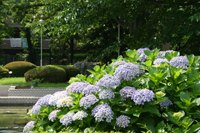 The rainy season sets in around late June and continues until mid-July. It rains almost every day, and the humidity becomes quite high. After the rainy season, the hot and humid summer starts. In August, it is sometimes impossible to fall asleep without using an air conditioner to cool the room. From August through September, there may be typhoon storms.
Autumn
The summer heat sometimes lasts until the end of September. After the heat tapers off, there are many comfortable days full of autumn sunshine. Around the end of November is the time that you can enjoy beautiful autumn colors.
Winter
Although dry, sunny days continue, there are occasional snowfalls from January through February, and as much as ten centimeters of snow may accummulate during particularly heavy snowfalls.
Created: March 30, 2010 / Last modified:November 19, 2012