Public Transportation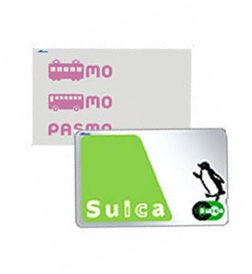 Cities in Japan invariably have public bus services, and many of the larger cities also feature subways and commuter train lines. Most people use public transportation to commute to work or school.
Researchers at UEC can purchase a commuter pass at a train station service counter. There is no need of showing your identification when purchasing a pass. There are commuter passes that are valid for one-month, three-month, or six-month periods.
In addition, using an IC card for short rides on the train, subway, or bus, saves you the trouble of having to buy a ticket each time. IC cards include PASMO and Suica, for example, that are good for use on most public transport in the Tokyo metropolitan area. These cards can be used by simply holding your wallet over a smart-card reader and can also be used in some cases as electronic money for making small purchases.
Taxis
Taxi fares vary, depending on the city and on the size of the vehicle. In the case of Tokyo, the basic fare for up to 2 km is about ¥710. After that, the fare goes up according to the distance and the time taken and varies according to the time of day. Usually, the fare between 11:00 p.m. and 5:00 a.m. is a late-night rate of 20% to 30% more than that in daylight hours. You do not need to tip the driver.
Created: March 30, 2010 / Last modified:June 5, 2014