Young Engineers and university students in ICT from Myanmar visited UEC
A delegation which includes 24 young engineers and university students in ICT from Myanmar visited UEC on July 14th, 2010 for their firsthand study of higher education system in Japan and, as an example, UEC's education and research activities.

After having lunch at the school cafeteria, the delegation visited Hideki KOIKE Laboratory, Department of Human Media Systems, to observe demonstrations in their research, human computer interaction. Then, they had an introductory presentation on Japanese higher education as well as education and research in UEC given by Prof. Nobuo HAMANO, Center for International Programs and Exchange, followed by a lecture titled "Features of ICT education at UEC" by Prof. Tetsuro NISHINO,Department of Informatics and a lecture titled "Environment and direction in ICT, and the impact on economic and social activities" by Prof. Tetsuya MIKI, Executive Advisor to the President. Finally, the delegation developed friendship with UEC students through discussion on cross-cultural understanding and social gathering.

This was one of the visits of the study tour arranged by Japan International Cooperation Center under "21st Century East-Asia Youth Exchange Programme" which has been promoted by Japanese government.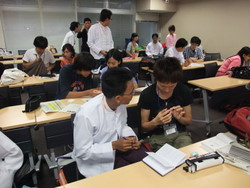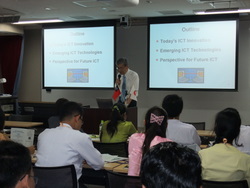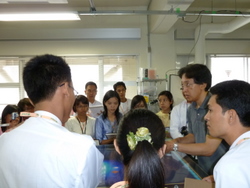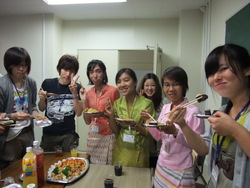 Created: July 20, 2010 / Last modified:November 19, 2012