Educators from Middle East countries Visited UEC
20 educators from educational institutes in Saudi Arabia, Lebanon and Yemen visited UEC on May 10th, 2010 in order to better understand higher education system in Japan, and education and research in UEC.
In the meeting, Dr. Fukuda, Director of Center for International Programs and Exchanges, gave a welcome speech to the delegate, and Prof. Hamano, Professor, Center for International Programs and Exchanges gave a presentation about higher education system in Japan and UEC brief introduction.
After the meeting, the delegate observed an experiment class in physics for under graduate students, Visit Dr. Kajimoto's laboratory (virtual reality, human interface), Dr. Kamakura's laboratory (audio electronics), Dr. Toyoda's laboratory (applied physics, material science) and UEC Library. After the campus tour, they attended a class "Japanese language and Communication" and deepened exchanges with Japanese and international students through discussion regarding cross-cultural understanding.
Saudi Arabia and Chofu-City have been interacting with each other since Chofu-City invited the Saudi Arabia national football team for the training camp of 2002 FIFA World Cup. This visit was realized when UEC accepted the request from Chofu-City to welcome the delegate which has plans to visit educational institutes in Chofu-City.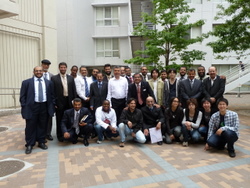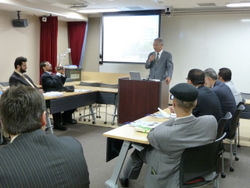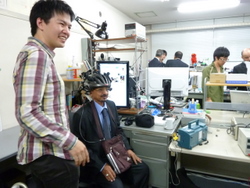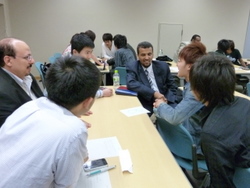 Created: May 11, 2010 / Last modified:November 19, 2012