UEC President Visited Hanbat National University
On Oct 11, 2010 UEC President, Dr. Makoto KAJITANI visited Hanbat National University (HBNU) located in Daejeon, Korea, following the general assembly in Seoul of MEGUROKAI South Korea branch two days before. He and his party paid a courtesy call on Dr. LEE Won-Mook, HBNU President, Dr. HONG Seong Uk, Director of Institute of the International Exchange, Dr. KWON Byong Cheol, Dean of Academic Affairs and Prof. MIN Byung Chan, Department of Industrial & Management Engineering. They attended a welcome dinner with these HBNU representatives and earlier in the day took a tour to the library and the historic resource center on HBNU campus and the Daedeok Technology Commercialization Center, one of Korea's leading business complexes.
UEC and HBNU have been in partnership in one form or another since 2005. An exchange agreement between two departments developed into the interuniversity agreement in 2008, and in October 2009 the short-term exchange study program began for students of both universities. It is now expected that collaboration between the two universities will show further growth due to this visit.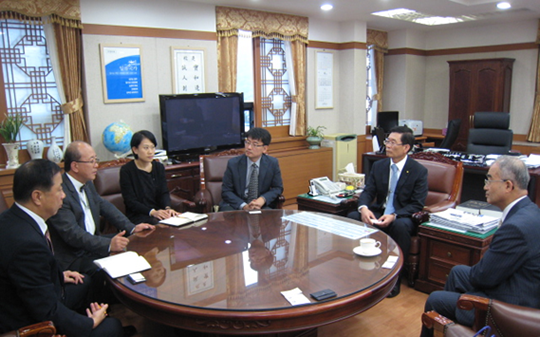 Pictured from right to left are President KAJITANI and President LEE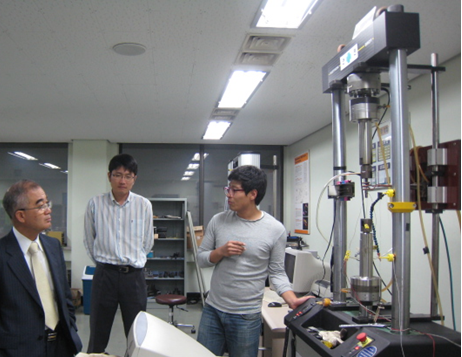 President KAJITANI receiving a demonstration in one of HBNU labs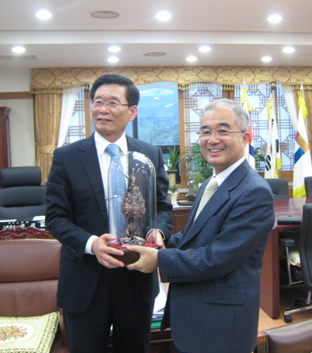 President LEE and President KAJITANI exchanging commemorative gifts
Created: November 18, 2010 / Last modified:November 19, 2012