Application for JUSST Program
Eligible Application
Student Status Conditions
You can apply if you are currently a regular undergraduate or a graduate student in field of Science or Engineering at one of the UEC Partner Universities. An applicant must be a 3rd or 4th year undergraduate, or graduate at the time during their enrollment.
The students, who in the final year can apply for this program only if their home university certifies that the applicant will keep being enrolled-in at their home university after they finish UEC Exchange Study Program, such as going to higher Graduate from undergraduate or Master's Degree Program at their home university, or extending their graduation until they finish the Exchange Program.
Note that participants are not allowed to leave the program during their enrollment term, under any circumstances (Excepting emergencies). Please take this into consideration when applying for the program.
Academic Requirement and Selection Criteria
Have good grounding in the field of Informatics, Science or Engineering.
Have a good academic record, with a minimum average score of 80%+ (2.3+ out of GPA Scale 3.0, 3.0+ out of GPA Scale 4.0, or 5.5+ out of GPA Scale 7.0)
Language Requirement
English Language Proficiency is required, such as TOEFL iBT=79+, TOEFL PBT=550+, IELTS=6.5+ or equivalent.
Japanese language proficiency is not required at all.
Character Requirement
Physically and mentally fit. Positive attitude towards studies as well as the rules and regulations. Adaptable to new circumstances and challenges. Self-motivated and be able to cooperate in cross-cultural, interdisciplinary environments. Sociable, friendly, interested in making friends with students from different nationalities, humorous, etc...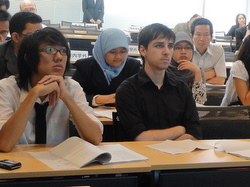 Application Forms and Documents

This icon opens a PDF file.

This icon opens a Word file.
*Adobe Reader@10.1 or later is required to edit and save data of jusst_form_A, uec_form_SP, uec_form_RP, and uec_form_R(PDF files)properly.
Please download and install the appropriate plug-in from following website.


http://get.adobe.com/reader/
Name of Documents
Download the forms
Note
1
Form A: Application for Admission as an Exchange Student
jusst_form_A.pdf(1.3MB)
Editable form
2
1 photo of yourself attached to your Form A
size: 3cm×4cm (1.2inch×1.6inch)
3
3 extra photos of yourself
size: 3cm×4cm (1.2inch×1.6inch)
4
Form H: Certificate of Health for Overseas Applicant to UEC
uec_form_H.pdf(172KB)
Filled out by a registered physician
5
JASSO Scholarship Application:
Certificate of Enrollment of the Applicant for Student Exchange Support Program
jasso_form.pdf(616KB)
Eligible for full-year enrolled applicants only (Filled out by the authorized person of your home university)
6
Proof of English proficiency:
e.g. a copy of official score report of TOEFL, TOEIC, IELTS or other tests
Only if your first language is not English
7
Transcript of current academic record for your degree(s) currently enrolled
Original only , no older than 1 month old
8
Transcript of academic record for your degree(s) which you were already awarded
Original only
9
Form SP :
Study Plan when you come to UEC, associating with your current studies/research at your home university
uec_form_SP.pdf(122KB)
uec_form_SP.docx(27.3KB)
Editable form
At least 2pages
10
Form RP : Prospective Research Proposal
uec_form_RP.pdf(1.05MB)
uec_form_RP.docx(29.5KB)
Only for graduate students.
Up to 6 pages
11
Form R:Referee's Report For Exchange
Student at UEC
uec_form_R.pdf(579KB)
uec_form_R.docx(29.3KB)
Filled out by your academic/
research supervisor
12
Certified copy of your passport
13
Certified copy of your student ID
14
Video Letter #1 of 3 minutes with topic on
your study/research background and current
study activities at your home university
No editing or rendering needed.
15
Video Letter #2 of 3 minutes with topic on
your motivation to apply our JUSST Program
and on your future prospects and carrier relating your prospective experience in our JUSST Program at UEC.
No editing or rendering needed.
16
Any other supporting document(s) if necessary

17
Financial support document
(For the self-funded students)

Proof of scholarship
Applicant's bank statement
Supporter's bank statement

Either of this document will be required immediately upon acceptance
Submit your application to the International Affairs Office at your university, attaching those documents. We only accept your application from the office.
Schedule
| Date of enrollment (twice a year) | October | April |
| --- | --- | --- |
| Application Deadline | May 15th | November 15th |
| Notification of acceptance | July | December |
| Start of studies in Japan | First week of October | First week of April |
Contact Us
If you have any questions, please contact us : jusst@fedu.uec.ac.jp
Created: March 28, 2010 / Last modified: February 25, 2022