IE-IEレター* Letter 2. ~留学生の活躍~マンズさん、ジュリーさん

南スーダン出身のマンズ・ジェラルドさんにインタビュー 
(インタビュアー:フランス出身のジュリー・モリニさん)
電通大構内を風を切るように駆ける人影を見たことはありませんか?南スーダン出身の国費留学生マンズさんの軽快なジョギング姿です。国費留学生として1年間の研究生期間を終えて、2020年4月から情報学専攻の修士生になりました。アフリカからは数年に1人くらいの割合で留学生がやってきます。インタビューをしてくれるのはフランスの協定校SUPMECA(パリ高等機械工学院)からの交換留学生で機械知能システム学専攻のダブルディグリー修士生ジュリー・モリニさんです。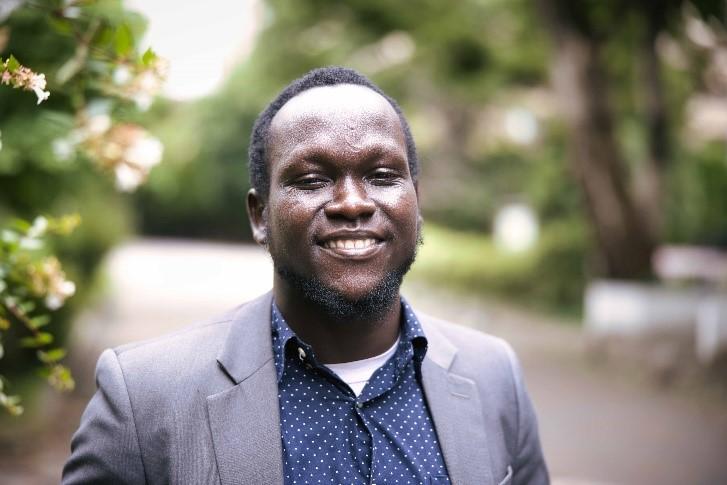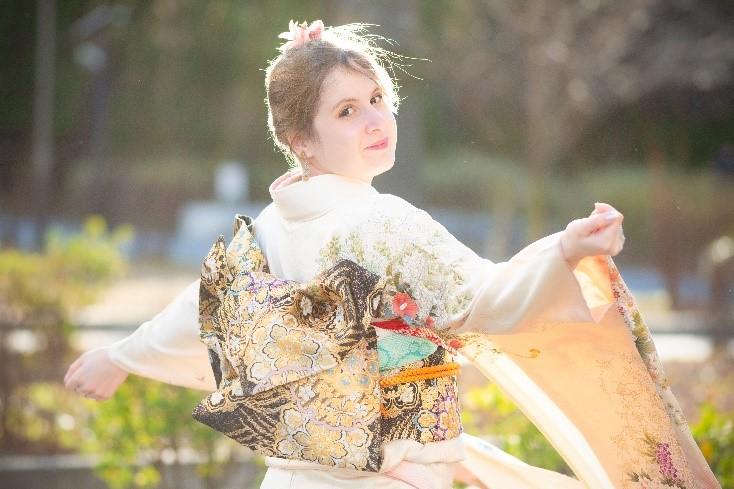 話し手:マンズ・ジェラルドさん   聞き手:ジュリー・モリニさん
Interviewee:,Manzu Gerald Simon KENYI , Interviewer: Julie MORINI
Julie: Please introduce yourself.
Manzu: Hello, my name is Manzu Gerald S. Kenyi and I come from South Sudan, located in Africa. I am a MEXT scholarship student. I joined the University of Electro-Communications in April 2019 and started my Masters course in informatics this year (2020).
Julie: What did you do before entering UEC?
Manzu: I graduated with a Bachelor degree in Information Technology from the University of Juba in South Sudan and immediately became a Teaching Assistant in the very same University, at the College of Computer Science and Information Technology.
Julie: What was your impression about Japan before coming here?
Manzu: The first time I heard about Japan was from World War II stories with my grandfather. As a child I believed that such a small but powerful country didn't exist on the same planet. From that time, I started feeling curious and got admirations for Japan. As I grew up, I tried to learn more about Japan, and in particular, I couldn't help noticing how Japanese technologies were advanced and spreading all over the world. In Africa particularly, almost every motor was called Honda or Toyota. It triggered even more curiosity as I was willing to specialize in Tech.
Julie: How did you decide to join UEC and how did you prepare yourself?
Manzu: When I was still a student, I got inspired when one of the Teaching Assistants at the University of Juba got the ABE Scholarship to pursue her masters in Japan. We exchanged while she was studying in Japan and she gave me more information and narrations not only about academia and research but also about the Japanese culture. I understood that it would be a huge cultural shock, but I had already made up my mind to study in Japan and then applied for the MEXT Scholarship, which I went through. In my mind, Japan was always among the best countries in the world to study Technology, and the University of Electro-Communications was the most appealing university for my major.
Julie: Did UEC and Japan meet your expectation?
Manzu: As far as I have been here with a one-year experience, life in UEC and Japan met all my expectations, to say the least.
If I must mention one thing which still surprises me, it would be the language barrier. Even if I had the opportunity to learn Japanese from the beginning because I believe it is a unique and interesting language, my first months were more troublesome than I expected. In particular, I felt overwhelmed by all the paperwork I had to do, all written in Japanese. Thankfully, I was always helped by the generous people at UEC around me (Teachers, Students, ISO) with diligence and respect, and I am very grateful for this.
Julie: Is it necessary to speak Japanese to study in UEC?
Manzu: No. It isn't necessary. However, it is important to learn Japanese. I personally cherish the opportunity to discover a new culture, and I decided to make an investment in learning Japanese in order to become able to understand the Japanese culture as well.
I also understood fast that investing myself in learning the language was necessary and was key to having a better experience of studying at UEC. I felt satisfied to see that my skills improved noticeably not only in daily life usage of the Japanese Language, but also through communication in my laboratory. The UEC Japanese-class department Teachers have been very helpful with this, and I enjoy learning Japanese a lot.
Julie: What would you say to students considering joining UEC?
Manzu: Prospective Foreign students need to have positive energy. UEC will give you more than you can expect. An advice would be that prospective students should have interest in the Japanese culture and language, which will enable them to evolve faster on all the aspects.
Julie: What would you say to Japanese students about how to behave with exchange students?
Manzu: I would encourage Japanese students to speak to foreign students without fear of being unpolite or misunderstood. It is a unique opportunity to ask and learn about foreign cultures and countries. If you have some interest, you should be more outreaching. At the same time, it makes working together, for instance on research, much easier.
Actually, when there is intimacy between Japanese and foreign students, both sides have many things to learn from each other, and it is very interesting.
Julie: Vision of the future:
Manzu: What I've learned as an International student will always be useful in my life.
I think that there are few students from the African continent in study and exchange programs in Japan and that making more collaboration between universities would be very profitable for both sides. I hope to be one of the very few people who will build the future bridges between Japan and the African continent.
Julie: Can you tell us about the World Youth Forum you participated in?
Manzu: I participated in the World Youth Forum 2019, in Egypt where young people from across the world shared and discussed their vision of the future they dream of, with stakeholders and Governments. It elaborates better plans and synergies that Governments, Organizations and the Youth should adopt for a better world.
(https://www.uec.ac.jp/news/announcement/2019/pdf/20191227_2287.pdf)
※この記事は2020年7月29日(水)に行われたZoomでのインタビューに基づいています。インタビューの模様の一部は動画で見ることができます。お二人にとっては母語ではない英語での対話の雰囲気を壊さないように、記事の修正はほとんどしていません。
なお、以下のサイトで他の学生さんたちの様々な体験談が読めます。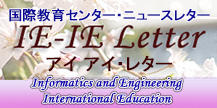 作成日:2020年9月 7日 / 更新日:2020年11月27日