Collaboration started with University of Science and Technology Beijing (China)
UEC and University of Science and Technology Beijing (USTB) in China have started academic collaboration aiming to further strengthen collaborative research activities through the effective use of teaching and research resources in both universities.
On 31st October, a ceremony was held at the USTB campus in Beijing in the presence of USTB President Xu JinWu and UEC President Makoto Kajitani, and other invited attendees from Meguro-kai which is the UEC alumni association. In the middle of the ceremony, President Kajitani gave a congratulatory speech, stating "I hope our two universities would further thrive by deepening our cooperation ." After the address by President Xu, the signed agreements were exchanged followed by the presentation of commemorative gifts between the presidents. The ceremony proceeded in a friendly atmosphere and frank and lively exchange of views was made among the attendees. After the ceremony, there was a hearty luncheon organized by USTB.
Under the agreement, further development of cooperation will be expected, including exchange of faculty members, and research collaborations between the two universities.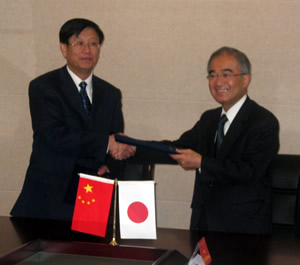 Created: November 26, 2009 / Last modified:November 19, 2012