Gabriel Delgado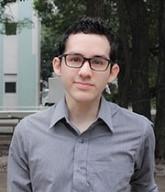 Job offer from major telecom company
Name: Gabriel Delgado
Country: Costa Rica
Affiliation: Department of Engineering Science
Q1: How and when did you start looking for a job?
I attended information sessions from several companies since the beginning of January. By the end of the month, I had selected three companies that I wanted to join the most. After that I focused on the applications of these three companies (doing internships, attending special events). At the same time, I submitted "entry sheets" to several other companies in case I wasn't able to join one of my top three.
Q2: Looking back on your job-hunting experience, please tell us one thing you would have
done differently.
I would have loved to have joined a summer internship. In my experience, internships are the most efficient way to learn about the company's culture and get insight about the inner workings of the company.
Q3: Looking back on your job hunting, please tell us if you had any difficulties.
It was difficult to write "Entry Sheets" while focusing on practicing for the different tests (e.g. SPI) required by each company.
Q4: Lastly, what advice do you have for other international students?
Start researching the companies you would like to join, narrow down the list of the companies you will actually apply to, and start preparing the "Entry Sheets" for those companies. Also, I think it is important to join an internship at the company you most prefer to enter.
Created: March 16, 2020 / Last Modified: March 16, 2020