Tung Wei Chun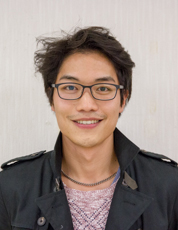 Tung Wei Chun
from Taiwan
I am Tung Wei Chun from a beautiful island, TAIWAN. My major is Electro Engineering and I have been studying specifically about wireless communication systems as the theme of master's program at a laboratory of Associate Professor PHAM.
When I joined UEC's JUSST program in my 3rd year of university enrolled at that time, it was the first visit to Japan. Of course, it was my first time visit to UEC. I did not have any experiences living abroad. Language, culture, life and the environment to study…everything were new and challenging. I had satisfying life through the experiences. JUSST program I spent one year developed my global vision. I couldn't have done without the great contributions of international exchange activities provided by UEC.
UEC provides not only several Japanese classes to adjust each student's level, but also interesting activities for us. It is notable that UEC, the university for science, gives us the perfect setting for continuing and developing our research and study.
During my one year as a student of JUSST program, I improved my Japanese language skill from zero to fluent. I passed 2nd level of the Japanese-Language Proficiency Test. Also I could build up a network of connection in my major field of study. Definitely, those are fruits of excellent UEC's programs.
After finishing JUSST program, I decided to enroll UEC's graduate school to obtain master's degree. UEC is famous in science and engineering field and also has close link with business enterprises. During my two years of master's program, I also had many memorable and productive experiences. Meticulous teaching from Dr. PHAM and participating collaborative researches with business enterprises expanded my view in my major field. I met researchers and students of Ho Chi Minh City University of Technology in Vietnam during short term research exchange project. They and I presented our research results at an international conference twice in two years. Without teamwork with them, I could not accomplish those presentations.
Chance favors only the prepared mind!
If you are waiting something challengeable, join us to expand your world and views.
Native Language
我叫董維鈞,來自美麗的島國台灣,目前就讀本校先進理工學系,專攻電子工學。
在範研究室專攻無線通訊系統。
大學三年級時透過JUSST交換生制度,首次來到日本。也是首次進入電氣通信大學。在外地面對完全陌生的環境,迎面而來的全新的挑戰。從語言到文化再從生活到課業,關關的考驗讓每日的生活充滿刺激與期待。在電氣通信大學一年的交換生生活,為我人生開了通往國際的道路。這一切歸功于本校完善的國際交流制度,本校除了在日語課程方面針對不同的能力階級提供完整的教育課程外,在國際交流活動上更相當充實。此外,在理工科學界擁有相當傑出表現得本校,讓當時的我除了專注語言與文化的學習外,更在當時專攻的系所中持續研究與學習的進度。在本校一年的交換生不但讓我日文能力從零到考取日文檢定二級,更讓我在技術的領域結交到國際的優秀人才。這一切成果歸功于本校完善的國際交流制度。
也因為如此,結束一年交換生生活,我立下了再次進入本校深造碩士的目標。本校在理工科學界保有好名聲外,與企業也一直保有相當密切的聯繫。這兩年的碩士生活中,除了在範研究室接受教授細心的指導外,更透過建教合作的機會參與與企業合作的研究計劃,在研究的領域中拓展了視野。除此之外更再次透過學校的國際交流制度,前往越南胡志明市做短期的研究交流,接觸到來自越南的優秀研究生,我們靠著團隊的努力,在碩士的兩年,一同在國際的學會上發表了研究成果。
機會是給準備好的人,如果你對挑戰充滿期待,歡迎你加入我們,一起開拓視野,一起改變世界!
Created: February 25, 2014 / Last modified: February 25, 2014