Anderson Arias Marin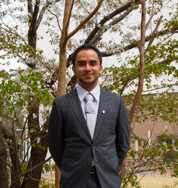 Anderson Arias Marin
Enrolling since 2009, from Colombia
I am Anderson Arias Marin from Manizales, Colombia. While I was in the country, I dreamed studying the most advanced robot technology in the world. For this, I took the examination for Japanese Government scholarship and became a government-sponsored foreign student. At first, I studied Japanese at a language school in Tokyo for a year. And then, I went to Takuma National College of Technology in Kagawa for three years.
Based on my fundamental education, I transferred to UEC as a junior student in April 2009. During my undergraduate years, I studied at Dr. Kaneko's laboratory, Department of Electronic Engineering. I built the composite drawing application software for iPhone as my graduation work.
After the graduation, I continued the studies of Facial Expression Recognition at Dr. Kaneko's laboratory in the master's course. The thesis was "Recognition of Subtle Change in Facial Expression." I presented my work at the Institute of Electronics, Information and Communication Engineers.
Mr. Ken Kutaragi, the famous developer of PlayStation, also graduated from UEC. I was enrolled at UEC to obtain in-depth knowledge of state of the art technology and become a qualified engineer. I met many foreign students there. My student's life was enriched by study and friendship.
Since April 2013, I have worked at Ericsson Japan. My dream for the future is developing a virtual education system for the people who live in poor environment of rural areas in Colombia.
Native Language
Mi nombre es Anderson Arias Marin y soy colombiano. Decidí estudiar en Japón porque me interesaba aprender acerca de los últimos avances tecnológicos en robótica. Para ello apliqué a la beca "monbukagakusho" auspiciada por el gobierno japonés y finalmente en marzo del 2005 arribé a Japón.
El primer año en Japón solo tomé clases del idioma japonés en un instituto de lenguajes en Tokio para después ingresar al Instituto de Tecnología Takuma, en la prefectura de Kagawa, donde estudié los primeros tres años de la carrera en tecnología de control electrónico. En Abril de 2009 regresé a Tokio para estudiar el tercer año de ingeniería electrónica en la Universidad de Electro-Comunicaciones de Tokio (UEC), donde como tesis de grado realicé una aplicación para la creación automática de caricaturas del rostro desarrollada para la plataforma iOS de iPhone. Finalmente en marzo de 2010 me gradué de la carrera de ingeniería en electrónica, y decidí continuar con la maestría en la misma universidad. Esta vez, como miembro del laboratorio a cargo del Prof. Kaneko, donde realicé una investigación acerca de reconocimiento de expresiones faciales sutiles.
La razón por la que decidí estudiar en la Universidad de Electro-Comunicaciones de Tokio (UEC) es por su excelente reputación, que la enmarca como una de las mejores universidades en Japón, específicamente en el área de ingeniería. Un ejemplo de esto es que el creador del Playstation es un egresado de esta universidad. Otro factor importante por el cual decidí estudiar en la UEC es porque cuenta con muchos estudiantes extranjeros, lo que me permitió tener amigos de muchas partes del mundo y disfrutar plenamente mi vida estudiantil.
Actualmente y desde abril del 2013 me encuentro trabajando en Ericsson como ingeniero de telecomunicaciones. Mi sueño a futuro es por medio de la tecnología de las comunicaciones poder contribuir al mejoramiento de la vida de las personas del área rural de Colombia, especialmente de los niños que no tienen acceso a una buena educación.
Created: May 9, 2013 / Last modified: May 28, 2013