Teuku Muhammad Roffi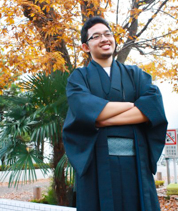 Teuku Muhammad Roffi
from Indonesia
Hi, my name is Teuku Muhammad Roffi. I come from Jakarta, Indonesia. I am studying about electronics engineering specifically semiconductor materials and devices. In the future, we hope to develop a new device for ultra violet LED application.
I spent my undergraduate study in electrical engineering program of Bandung Institute of Technology, Indonesia. The institute has an exchange agreement with UEC and through this program I first came to UEC as an exchange student for one year (2009-2010). In the exchange program I joined Professor Nozaki and Professor Uchida's lab working on improvement of LED packaging. After finishing my exchange program, I return to Indonesia and graduated. The exchange program provided me opportunity to apply for graduate program with Japanese Government scholarship (Monbusho). Therefore after graduation I can come back to UEC for my master's program in the same laboratory supported by Japanese Government scholarship.
UEC offers very nice facility and environment to work and do research as well as to live. In my research, experiments and characterization are very important and this means sophisticated, sometimes expensive machines are required. Thankfully, UEC can fulfill this need by having clean rooms (class 10000 and 100) equipped with machines for semiconductor materials & device fabrication, process and characterization.
Other than research, I enjoy my student life in UEC for several things. The first is for being located in Chofu, a city close from Shinjuku. Life in Chofu is very comfortable because there are not only supermarkets & department stores but also natural recreation sites nearby. We can refresh our mind by going to Jindaiji botanical garden or just spend some time relaxing alongside Nogawa or Tamagawa rivers. The second is for providing various supports and activities for international students. There are Japanese language courses in campus and cultural events in which we can wear kimono, learn the Japanese tea ceremony, or draw our own etegami. There are also societies that nurture communications and friendships between Japanese and International students such as ICES, MIFO, and CIFA. UEC also provides housing and dormitories for its students, including international students. And as for Muslim, there are some spaces in campus that we can use for prayer.
After finishing my master's I wish to continue to doctoral course in UEC and I really hope to enjoy my every moment in UEC, be productive, and gain useful skills & knowledge.
Native Language
Halo, nama saya Teuku Muhammad Roffi. Saya berasal dari Jakarta. Bidang yang saya tekuni adalah elektronika, khususnya tentang material dan devais semikonduktor. Di masa mendatang, Saya berencana untuk mengembangkan devais baru untuk aplikasi LED ultra violet.
Saya adalah alumni teknik elektro di Institut Teknologi Bandung. ITB memiliki kerja sama pertukaran pelajar dengan UEC dan melalui program inilah saya pertama kali datang ke UEC di tahun 2009-2010. Saat itu saya belajar di bawah bimbingan Profesor Nozaki dan Profesor Uchida untuk meneliti cara meningkatkan performa LED melalui modifikasi pada package-nya. Setelah menyelesaikan program pertukaran selama satu tahun, saya kembali ke Indonesia dan meyelesaikan program sarjana saya. Program pertukaran ini memberi saya kesempatan untuk mendaftar melanjutkan studi dengan beasiswa pemerintah Jepang (Monbusho). Oleh karena itu, setelah lulus saya bisa kembali ke UEC untuk program master dengan dukungan beasiswa pemerintah Jepang.
UEC menyediakan fasilitas dan lingkungan yang nyaman untuk belajar dan untuk hidup secara umum. Misalnya saja, bidang penelitian saya terkait sangat erat dengan eksperimen dan percobaan yang berarti alat-alat canggih dan terkadang mahal sangatlah dibutuhkan. Untungnya UEC memiliki fasilitas yang memadai untuk kebutuhan-kebutuhan seperti ini, yaitu fabrikasi, proses dan karakterisasi material serta devais semikonduktor di dalam cleanroom kelas 10000 dan kelas 100.
Selain tentang penelitian, kehidupan di UEC juga nyaman terutama karena beberapa hal berikut. Pertama karena UEC terletak di Chofu, sebuah kota yang terletak dekat dari Shinjuku. Chofu sendiri merupakan kota yang nyaman karena bukan hanya memiliki pusat-pusat perbelanjaan, di sini juga ada tempat-tempat wisata alam. Kita bisa menenangkan pikiran di taman Jindaiji atau bersantai di pinggir sungai Tamagawa atau Nogawa yang terdapat dekat dari kampus. Yang kedua adalah karena banyak dukungan dan aktivitas yang diselenggarakan oleh UEC untuk mahasiswa internasional. Ada kelas-kelas bahasa Jepang dan aktivitas-aktivitas kebudayaan dimana kita bisa mencoba kimono, belajar adat minum teh tradisional jepang, atau membuat etegami kita sendiri. Di sini juga ada beberapa komunitas yang bertujuan menjalin komunikasi dan persahabatan dengan mahasiswa-mahasiswa internasional seperti ICES, MIFO, dan CIFA. UEC juga menyediakan tempat tinggal dan asrama untuk mahasiswa-mahasiwanya, termasuk mahasiswa internasional. Dan untuk muslim, sudah tersedia beberapa tempat yang bisa kita gunakan untuk sholat.
Di masa mendatang, setelah menyelesaikan program master, Saya berencana untuk melanjutkan studi program doktoral juga di UEC dan Saya berharap bisa menikmati masa-masa studi di UEC, menjadi pelajar yang produktif dan semoga bisa memperoleh ilmu yang bermanfaat.
Created: May 27, 2013 / Last modified: September 4, 2015