Center for International Programs and Exchange (Building E-2)
The Center for International Programs and Exchange (CIPE) conducts Japanese-language and culture classes for international students, as well as various international exchange programs such as JUSST and preparatory programs.
CIPE provides advice and assistance to international students in matters such as research activities, study, and everyday life. These consultation services are provided by faculty advisors and tutors and are available to all international students, who are encouraged to make use of the services offered at CIPE to ensure that they have an enjoyable and successful experience at UEC.
CIPE also organizes social events geared toward encouraging interaction between international and local students, implements international exchange programs in tandem with the local community, and conducts UEC international contribution programs in collaboration with international institutions.
CIPE has classrooms, a computer room, a language laboratory, and a multipurpose hall in the Building E-2. The rules for use of CIPE are the same as those that apply to the classrooms in Building E-2 and are listed below:
Eating and drinking are not allowed in the classrooms. For locations for eating and drinking, please follow the instruction given at the orientation, etc.
Do not leave litter in the rooms. The nearest garbage receptacle to Building E-2 is in front of the University Center (Univ Co-op shop).
The last person to leave the room is responsible for closing the windows and turning off the airconditioner and the lights.
If you would like to use a classroom for other than academic activities, please consult International Student Section in advance.
UEC International Lounge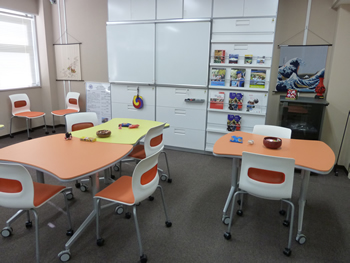 UEC International Lounge is located in Building E-2 (Room 117). The lounge was established to serve as a venue for raising awareness of the educational institutions affiliated with UEC and to provide Japanese students with information on study-abroad programs.It also provides opportunities and venues for international students and Japanese students to become acquainted with one another. Details on the events held here are displayed on the bulletin board for international students or the general university bulletin board.
Created: March 29, 2010 / Last modified:November 19, 2012