International Culture Exchange Society(ICES)
The International Culture Exchange Society (ICES), which was established by international and local students in December 1984, takes an important role in bringing together UEC's international students and Japanese people. Through its support of the activities of ICES, Student Services Office has become more familiar with the needs of international students and ways in which to facilitate international exchange.
The major events organized by ICES include a welcome party for newly entering students in the spring and activities for international and local students and members of the community held as part of the university's Chofu Festival and Sports Festival.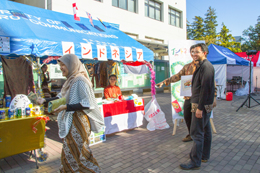 Created: March 30, 2010 / Last modified:April 9, 2014