University Center
The University Center is designed to encourage the development of interpersonal ties among students and between students and teachers. It also facilitates the organization of extracurricular activities for students, enriches other school activities, and promotes student welfare. The center includes the facilities listed below. For more information on student welfare facilities, please read Student Welfare FacilitiesStudent Welfare Facilities.
| | |
| --- | --- |
| 1F | Shop and hairdresser's |
| 2F and 3F | Cafeteria and restaurant |
| 4F | Multipurpose hall, meeting room, music room, and Japanese-style room |
Procedures for using facilities or renting equipment on the fourth floor can be completed at Extracurricular Activities/Student Welfare Section, Student Services Office. You can also rent equipment for exercising, camping, audio-visual activities, and meetings. The rental hours are Monday through Friday, 9:00 a.m. to 5:00 p.m., and a student ID card and signature are required at the time of rental.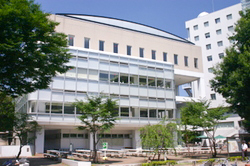 Created: March 29, 2010 / Last modified:April 16, 2014