Chofu Sightseeing Bus Tour
This event was held.
Event Title
Chofu Sightseeing Bus Tour
Date
February 17th, 2018 (rain or shine)
Qualifications for entry
International students, Residents live or work in Chofu, and returnee students (*18 years of age or more)
Capacity
20 (first-come-first-served)
Fee
1,000yen (for lunch, pottery painting)
Apply
Make reservation by Email, phone, fax or letter. Be sure to give your 1)address 2)name 3)age 4)sex 5)nationality 6)phone number.
Organized by
The Chofu Sightseeing Assosiation
ADDRESS: 〒182-8511 2-35-1 Kojima-cho, Chofu-city, Tokyo.
TEL:042-481-7183, FAX:042-481-7391
EMAIL:kankou@w2.city.chofu.tokyo.jp
Deadline
February 7th, 2018
https://csa.gr.jp/contents/2876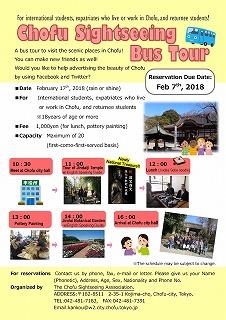 Created: December 28, 2017 / Last modified:December 28, 2017