2011 International Student Trip to Toba & Ise
On September 1 the students arrived at Toba-Station by Tokaido-Shinkansen and Kintetsu Express. Though we worried the weather because of the approaching Typhoon No. 12, it did not rain. First we visited the "Sea-Fork Museum" and observed the model and real of old boats, the local tools for fishing and others. We could understand the traditions of local fisher-folk and the relationship between man and the sea. Next we visited "Mikimoto Pearl Island" and observed the production system of the cultivated pearls. We also enjoyed the demonstration of women divers who got the oysters from the bottom of the sea without oxygen tanks. At night we enjoyed the sea food dinner served in traditional style.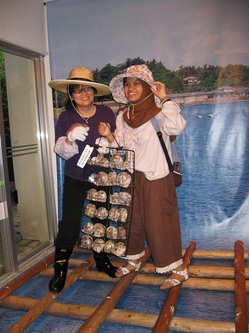 On September 2 we visited "Ise-Azuchimomoyama-Bunkamura" which is the historical theme park showing the reproduced town and castle of the late 16th century. At the Ninja Theater the 3 students challenged the blow dart of Ninja and got the applause because they hitted the target. When we went back to the bus, it started to rain heavily and the wind also blew very hard. So we skipped Ise-Shrine. After having lunch including the local dish we strolled the "Oharai-machi" because the wind and rain abated. When time had come to go back to Tokyo and arrived at the Kintetsu Station, we found that the trains had stopped because of the heavy rain. So we took the bus to the other Kintetsu Station where the train running and went to Nagoya. We arrived at Tokyo 2 hours late than planned.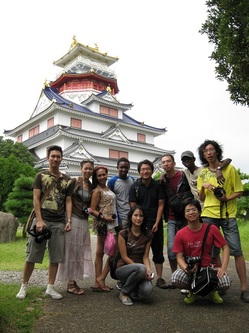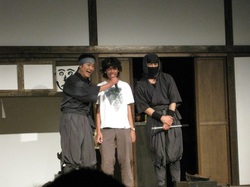 Created: September 20, 2011 / Last modified:November 19, 2012