KIMONO & TEA CEREMONY Event
Would you like to wear KIMONO and participate in JAPANESE tea ceremony?
In this event, you can learn how to wear traditional JAPANESE wear, KIMONO by professional KIMONO dressing teacher and also learn JAPANESE tea ceremony.
Eligible student
: 15Ladies & 15Gentlemen ※First come, first served.
Time
: Ladies13:00 ,Gentlemen14:00(Closing time: Around 17:00)
Fee
: 500JPY per person (Bring the fee to ISO Nov. 27 th -28 th )
The deadline of application

:

Nov.22 th Thu.
 → We accept your application only by email! (iso@office.uec.ac.jp)
The title should be "KIMONO", the text should include your name, student numbername.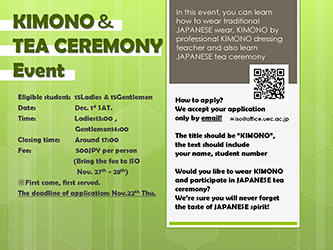 Created: November 1, 2018 / Last modified:November 1, 2018